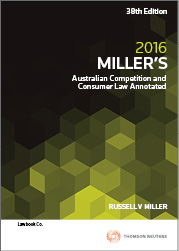 Miller's Australian Competition & Consumer Law Annotated Online
Online

Date: 26/09/2006

Code: 41167397

Thomson Reuters, AUSTRALIA

Enquiry Sent

A member of our support team will be in touch with you within 1 business day.

Enquiry Form

Miller's Australian Competition & Consumer Law Annotated Online
Description
Miller's Australian Competition & Consumer Law Annotated is available online as an updating subscription service.

This work is the essential resource for practitioners, professionals and anyone with an interest in competition and consumer law. Containing the full text of the Trade Practices Act with annotations written by Russell V Miller to explain the operation of the legislation and provide a detailed analysis of the relevant case law, Miller's Australian Competition & Consumer Law Annotated Online also contains related legislation and materials.

Miller Online is updated approximately four times per year, or more, with legislation updated as amendments come into force. It contains all the benefits of the paper version with features unique to Thomson's online publications, including "law in force" legislation alerts, easy to use searching, and (subject to separate subscription) full integration with other Thomson products such as FirstPoint case research and full text authorised reports, including the Federal Court Reports and Commonwealth Law Reports.


* Price is for a single annual subscription for firms or businesses with one practitioner. Practitioner is defined as employed and/or self-employed professionals within Australia including: solicitors, self-employed barristers, HR professionals and environmental specialists, corporate counsel, accountants including CPAs and CAs and registered tax agents and financial planners. For pricing for government departments and authorities and multiple users
submit an enquiry online
or call 1300 304 195.