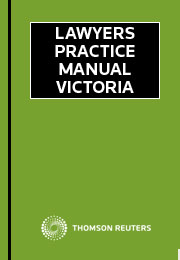 Lawyers Practice Manual Victoria Springvale Legal Centre
Looseleaf

Date: 18/09/2012

Code: 30131880

Lawbook Co., AUSTRALIA

Enquiry Sent

A member of our support team will be in touch with you within 1 business day.

Enquiry Form

Lawyers Practice Manual Victoria Springvale Legal Centre
Description
This product is a narrative guide to the practice and procedure of law in Victoria. This compendium of law assists in achieving better and faster outcomes for practitioners in dealing with a variety of legal issues.
The manual's overall aim is to assist subscribers with gaining practical insight quickly. To this end, Lawyers Practice Manual Victoria includes step-by-step guidance with an overview of the law relevant to each distinct area of practice that is covered (see Table of Contents below). The manual is narrative in style, and is designed so that each chapter covers a separate legal task, is easy to follow and is complete in itself. In addition, this guidance is supported by tools including practical hints, precedents, letters and standard forms.
The manual is produced in conjunction with Springvale Monash Legal Service and is authored by an extensive group of practising lawyers, thus ensuring the content is authoritative and comprehensive.
The manual is well established and is integral to the legal fraternity in Victoria. In 2015 we celebrate the 30th anniversary since the launch of this highly regarded product.
Table of Contents
- Current Developments
- Legal Practice
- Criminal Law
- Family Law
- Civil Litigation
- Property Matters (including Conveyancing)
- Consumer Law
- Children
- Administrative Law
- Mental Health and Capacity
- Community Groups
- Legal Aid
- Information Access and Protection
- Planning and Environment
- Wills and Estate Administration
- Immigration
- Human Rights
- Commonwealth Compensation

*
Price is for an annual subscription and includes all updates issued during this period.