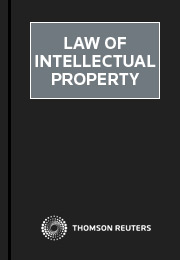 Law of Intellectual Property
eSub - ProView

Date: 29/07/2014

Code: 41638997

Thomson Reuters, AUSTRALIA

Enquiry Sent

A member of our support team will be in touch with you within 1 business day.

Enquiry Form

Law of Intellectual Property
Description
The Law of Intellectual Property: Copyright, Design & Confidential Information provides insight on intellectual property rights, relating to the protection of copyright, designs, trade secrets and commercial ideas. The content is concise to ease understanding difficult legal concepts, including the latest developments in intellectual property and their practical implications.

Within the service there is cross-referencing from the provisions of the legislation to the commentary and analysis related to the provisions; recent judicial decisions are monitored and discussed ; precedents, Exposure Drafts, EMs and Second Readings of highly relevant Bills publish in the "pending legislation" section.

Recommended Reading provides abstracts of articles written by specialists in IP . New Developments summarises latest Bills, legislative amendments, news, case-law and ministerial activities.
*
Price is for a single annual subscription for one user and includes all updates issued during the year. For pricing for multiple users or for existing subscribers to the service in other formats, please submit an enquiry online or call 1300 304 195.

eBooks and eSubs (an updating subscription eBook) may not be returned once the software key has been supplied to the customer, which supply will be by email after publication of the eSub or eBook. Your rights as a customer to access and use the ProView software and a ProView eSub are subject to acceptance of the terms upon which are at http://thomsonreuters.com.au/terms/content-licence-for-australian-proview-ebooks.asp.