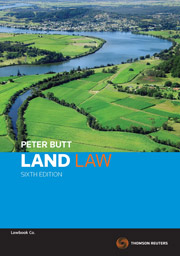 Land Law 6th Edition
Book

Date: 22/12/2009

Code: 9780455225326

Lawbook Co., AUSTRALIA
Description
Land Law, 6th Edition provides a comprehensive coverage of all areas of contemporary land law, in modern, plain English.

This edition continues the approach of previous editions in tracing the developments of land law from its English origins, while also emphasising the uniquely Australian aspects of land law. These aspects include particularly Torrens title, strata title, Crown lands, and Indigenous land issues.

All chapters have been completely revised to take into account recent case law and statutory developments. Areas of significant change include co-ownership, leases, easements, covenants, mortgages, adverse possession, Torrens title, Crown lands, and native title.

The book is written both for students seeking a structured and accessible approach to land law, and for practitioners and researchers looking for detailed coverage.

Recent judicial mention:

Stenberg v Lechowics [2010] NSWSC 926 per Macready AJ

"61 The logic extends to mortgages, as Butt in Land Law, 6th Edition, Law Book Co at [1448] points out: while one co-owner may also grant a mortgage over his or her share, he or she cannot bind the interest of any other co-owner".

Editorial Reviews
From: Australian Banking and Finance Law Bulletin 2010. Vol 26 No2
Reviewed by Anthony Lo Surdo, Barrister at Wentworth/Selborne Chambers
It is with keen interest that I review this latest edition of Land Law. As an undergraduate student in the 1980s, I had the good fortune not only to study from the second edition of this work, but also to be taught by its author, Professor Butt, at the University of Sydney Law School.
As a practitioner, Land Law has never been far from my reach. Why? For the simple reason that the work provides a comprehensive and at times critical analysis of the leading principles of Australian land law. Most importantly, that analysis is provided in a form which not only enables research to be undertaken with comparative ease, but also is readily digestible.
Professor Butt is gifted with a highly structured and disciplined mind and, as a consequence, his lectures were delivered with ruthless clarity and efficiency. The same can also be said of the manner in which this work is written.
There has been a plethora of case law and statutory amendments since the last edition five years ago. This has necessitated significant changes to the chapters on co-ownership, leases, mortgages, the Torrens system, strata title, Crown Lands title, retail leases and native title.
The text is a virtual "one-stop shop" on land law. It covers such diverse topics as the concept of land, fixtures, the doctrine of estates and equitable interests in land, co-ownership, leases including those regulated by statute (such as the Retail Leases Act 1994 (NSW) and the Residential Tenancies Act 1987 (NSW)), easements and covenants, old system title, Torrens title, mortgages and native title.
This edition, like its predecessors, continues to be, in this reviewer's mind, the quintessential reference source on land law in New South Wales.
Table of Contents
1. Sources of land law
2. Land
3. Fixtures and related matters
4. The doctrine of tenures
5. Ownership and possession of land
6. The doctrine of estates
7. Uses, trusts and equitable interests
8. The fee simple
9. The fee tail
10. The life estate
11. Remainders and executory interests
12. Perpetuities
13. Settlements and trusts for sale
14. Co-ownership
15. Leases
16. Easements and similar interests
17. Covenants affecting freehold land
18. Mortgages
19. Old system title and priorities
20. Torrens title
21. Strata title
22. Possessory title
23. Crown lands
24. Leases regulated by statute
25. Native title.