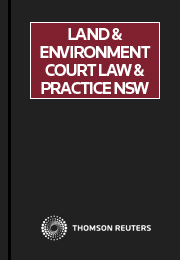 Land & Environment Court Law & Practice NSW
eSub - ProView

Date: 01/08/2014

Code: 41594323

Thomson Reuters, AUSTRALIA

Enquiry Sent

A member of our support team will be in touch with you within 1 business day.

Enquiry Form

Land & Environment Court Law & Practice NSW
Description
The Land and Environment Court NSW Practice Manual focuses on the Act, Regulations, Rules, Case Law, Directory, Practice Notes and Forms particular to the Land and Environment Court of NSW.
Written and updated by Dr Jeff Kildea, who for more than 30 years practised as a barrister in the Land and Environment Court, is currently an Acting Commissioner of the Court. This service provides subscribers with a complete and thorough understanding of how the legislation and case law operates in the Land and Environment Court NSW, explaining how the range of legislation interacts and overlaps in this complex practice area. It is a practical service, where one can search for a section in the Act or Regulation followed by explanatory commentary and cases on the section.
The work is annotated and includes references to significant cases and commentary with illustrations of the application of the statutes, which fall under the Court's jurisdiction. In addition, the author discusses contentious issues and provides guidance on the practice and procedure of the Land & Environment Court New South Wales.