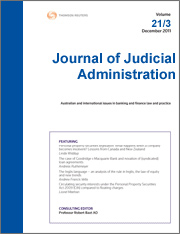 Journal of Judicial Administration: Online
Online

Date: 28/10/2008

Code: 41167312

Lawbook Co., AUSTRALIA

Enquiry Sent

A member of our support team will be in touch with you within 1 business day.

Enquiry Form

Journal of Judicial Administration: Online
Description
Contemporary developments in judicial systems and court administration

The Journal of Judicial Administration is a leading forum for the discussion of contemporary issues impacting on judicial administration.

The Journal features informed discourse on areas such as:
the efficient and effective operation of Courts, Tribunals and quasi-judicial forums;
the impact of new technology on judicial administration;
the structure, organisation, financing and management of the Courts and the Court system;
the appointment, tenure, independence and accountability of judicial officers; and
education programs to enhance the work performance of justice system personnel.
The Journal is published in association with the Australasian Institute of Judicial Administration (AIJA). The articles featured in the Journal are written by leading judges, academics, practitioners and other legal specialists and experts.

Online, the Journal features the full backset to Volume 1, 1991, with links to judgments, legislation and other online publications, while allowing for individual articles to be downloaded in pdf format or received via RSS feed.

There are approximately four Parts published each year.

To access articles and information on all of our journals, to submit an article or to join our community, visit Journals Talk at http://sites.thomsonreuters.com.au/journals/.