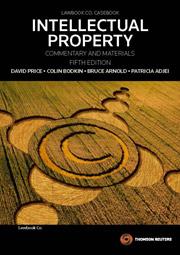 Intellectual Property: Commentary & Materials 5th Edition
Book

Date: 06/12/2011

Code: 9780455227825

Thomson Reuters, AUSTRALIA

Intellectual Property: Commentary & Materials 5th Edition
Description
Intellectual Property is one of the most popular courses of study at undergraduate and postgraduate level and is a major instrument of world trade and economic growth. This area of law and regulation has gained in importance with the development of the 'knowledge economy', as a large proportion of the world's wealth is in the form of intellectual capital rather than physical or material sources.

This latest edition of Intellectual Property: Commentary and Materials deals with all the essential aspects of the nature of the property rights involved in copyright, patents, designs, trade marks, protection for confidential information and passing off.

This new edition includes new chapters on:
The International Context of Intellectual Property — examining the international dimensions of international property rights and their impact on the Australian domestic regime
Copyright in the Digital Environment
Plant Breeder's Rights
Indigenous Cultural and Intellectual Property
Extensively revised discussion of patent validity
Additional material on patent claim construction.
Table of Contents
Part 1 Introduction
Ch 1: Introduction to Intellectual Property
Ch 2: International Aspects of Intellectual Property (new chapter)

Part 2 Copyright
Ch 3: Historical and Conceptual Issues
Ch 4: Criteria for Subsistence of Copyright
Ch 5:Ownership and Exploitation
Ch 6: Infringement
Ch 7: Copyright in the Digital Environment

Part 3 Patents
Ch 8: Context of Patent Law
Ch 9: Requirement of Validity
Ch 10: Specifications – the internal objections
Ch 11: Infringement and Exploitation

Part 4 Trade Marks
Ch 12: Passing Off
Ch 13: Trade Marks

Part 5 Other Intellectual Property Areas
Ch 14: Designs
Ch 15: Confidential Information
Ch 16: Plant Breeder's Rights (new chapter)

Part 6 Special Topics in Intellectual Property
Ch 17: Indigenous cultural and Intellectual Property Rights (new chapter)