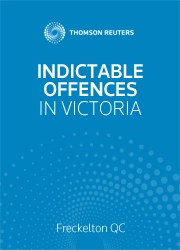 Indictable Offences in Victoria - eSub
eSub - ProView

Date: 17/08/2012

Code: 41345283

Thomson Reuters, AUSTRALIA

Enquiry Sent

A member of our support team will be in touch with you within 1 business day.

Enquiry Form

Indictable Offences in Victoria - eSub
Description
Gain immediate access to a "check sheet" for most Victorian indictable offences.

Acting for the defence or the prosecution, Indictable Offences in Victoria provides immediate offence and principle-based guidance, updated throughout the year. Take your investigations further via links with criminal law databases on Westlaw AU, including Criminal Law Investigation and Procedure Victoria.

This essential resource for legal practitioners and police assists those with responsibility for charging defendants and for prosecuting and defending them in Victoria's criminal justice system.

Expert commentary is updated by barrister, Dr Ian Freckelton QC and Kerryn Cockroft.

It sets out clearly all matters relevant to the prosecution of indictable offences in Victoria, addressing general principles of criminal law and using a succinct alphabetical catalogue of indictable offences. Analysis of general principles of criminal law is complemented by detailed references to textbooks, looseleaf services, articles and caselaw for further exploration. Text of the relevant provision is included for ease of use.

Content The work opens with a useful chapter of definitions and a practical outline of broad principles of law and procedure relevant to charging and trial of indictable offences. Briefly and practically, the commentary deals with different aspects of criminal pleadings including alternative verdicts, duplicity and joinder, and proper content of indictments. It also identifies law relevant to causation, defences, liability, sentencing, bail and criminal injuries compensation in Victoria.

The major second part comprises an alphabetical treatment of a wide range of indictable offences, addressing the essential characteristics of an offence and identifying cognate charges which may be considered as an option.

Coverage of each offence includes:
the relevant provision or common law source
statement of offence
wording of the charge
penalty
matters to be proved
important references
other possible offences which might be considered as alternative charges
notes regarding the scope and nature of the offence and the matters to be proved
The chapter on Sentencing includes tables of custodial and pecuniary penalties.

The eSub offers the benefits of an updating subscription work, delivered on an outstanding professional grade e-Reader app, Thomson Reuters ProView™.
Updated approximately 6 times annually.
Resource Downloads
General Downloads
*
Price is for a single annual subscription for one user and includes all updates issued during the year. For pricing for multiple users or for existing subscribers to the service in other formats, please submit an enquiry online or call 1300 304 195.

eBooks and eSubs (an updating subscription eBook) may not be returned once the software key has been supplied to the customer, which supply will be by email after publication of the eSub or eBook. Your rights as a customer to access and use the ProView software and a ProView eSub are subject to acceptance of the terms upon which are at http://thomsonreuters.com.au/terms/content-licence-for-australian-proview-ebooks.asp.