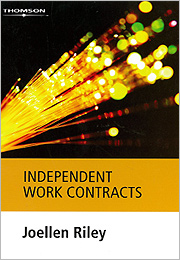 Independent Work Contracts
Book

Date: 05/09/2007

Code: 9780455224213

Lawbook Co., AUSTRALIA

Independent Work Contracts
Description
In recognition of replacement of the Workplace Relations Act 1996 by the Fair Work Act 2009 and other changes since its publication, the recommended retail price of this backlist title has been reduced. Thomson Reuters is pleased to continue to make this book available so that HR, IR and employment practitioners can benefit from it when advising employers and contractors in this area.

Over a concentrated period of reform, the regulatory landscape has changed for many workers. Commonwealth industrial and employment laws such as the Workplace Relations Act 1996 (since replaced by Fair Work Act 2009) and the Independent Contractors Act 2006 facilitate the engagement of workers as independent contractors, and relieve employers of compliance with many state industrial laws.

Independent Work Contracts, by Joellen Riley, was written just after the Independent Contractors Act was introduced. Riley's text explains the regulatory environment for independent contractors, and outlines the range of laws that govern these kinds of working arrangements. The Independent Contractors Act draws on the older common law tests to distinguish genuinely independent work contracts from employment relationships. These tests, and the 'sham' contractor provisions that were a feature of the Workplace Relations Act are explained in Part I. Readers interested in the subsequent development of these provisions should note their treatment in Ch 3, Pt 3-1, Div 6 of the Fair Work Act.

The Independent Contractors Act - which includes a Part on unfair contracts review - is explained and annotated in Part II. Most importantly, Part III explains how other commercial law rules and principles (including contract law, Trade Practices, and tax rules) apply to these kinds of contracts.

Independent Work Contracts continues to be a practical resource for HR, IR and legal practitioners advising employers and contractors, and provides an educational resource for students of labour law and management practice and others with an interest in the development of Australian workplace regulation.