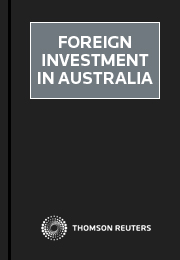 Foreign Investment in Australia - eSub
eSub - ProView

Date: 01/12/2014

Code: 41639013

Thomson Reuters, AUSTRALIA

Enquiry Sent

A member of our support team will be in touch with you within 1 business day.

Enquiry Form

Foreign Investment in Australia - eSub
Description
This service provides a practical introduction and reference guide to Australia's policy and regulation of foreign investment. It includes:
basic regulatory scheme at Commonwealth and State levels;
transaction analysis of different foreign investment proposals;
alternative vehicles for foreign investment and government dealings with foreign investors;
exchange control and preliminary review considerations for foreign investors;
policy guidelines, forms and legislation required by potential investors and their advisers.
Features
Practical - Practical guidance for practitioners including frequently asked questions, updated monetary thresholds, FIRB guidance notes and a chapter devoted to practical considerations for lawyers.
Background - Comprehensive coverage of the history of foreign investment policy in Australia.
Comprehensive – Expert authored analysis of statutory regulation by sectors, eg media and telecommunications, financial services, civil aviation, mining, shipping, foreign government landholdings and rights of aliens.
Policy guidelines - Includes the 2015 edition of Australia's foreign investment policy (the key document relating to the government's position on foreign investment in Australia) and international policy materials.
Legislation – Includes FATA and regulations and others, all clearly structured and easily accessed.
New developments - Highlights and discusses changes in policy and regulation, tracks upcoming legislation that may affect foreign investment in Australia and recommends relevant readings and articles.
Tables - Up to date tables of cases and statutes and a comprehensive index that allow for easy navigation throughout the commentary, policy guidelines and legislation as well as easy browsing for specific topic areas.