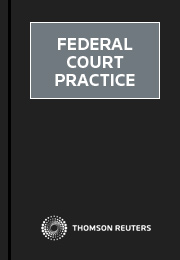 Federal Court Practice
Looseleaf

Date: 11/09/2012

Code: 30142134

Lawbook Co., AUSTRALIA

Enquiry Sent

A member of our support team will be in touch with you within 1 business day.

Enquiry Form

Federal Court Practice
Description
Federal Court Practice is the authoritative guide to the practice and procedure of the Federal Court of Australia. This service provides in-depth examination of the rules and procedures of the court in a readily accessible manner. It includes the annotated Federal Court Act and Regulations, the 2011 Federal Court Rules (as well as the former 1979 Rules) and Practice Notes. In addition, a number of essential court and practice materials relating to costs, evidence and cross-vesting are covered. The extensive annotations and commentary contain comprehensive coverage of the most relevant judicial decisions.
The author, Justice Geoffrey Flick, is a judge of the Federal Court of Australia and also the distinguished author of High Court Practice and Federal Administrative Law. Federal Court Practice is a current, clear and authoritative practice tool to prepare for litigation and to take to court.
Features
Written by a well-known author with extensive experience as a senior barrister in the Federal Court jurisdictions
All the relevant legislation and commentary in the looseleaf version is contained in Volume 1 which makes it convenient to take to court
Extensive references made to important Federal Court decisions
Comprehensive tables and procedural materials located in one service allows for quick and convenient research
The online version contains currency status of legislation at the provision level
* Subscription price includes 12 months of updating releases.