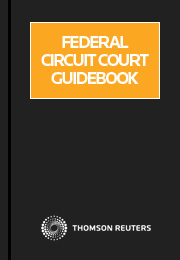 Federal Circuit Court Guidebook Online
Online

Date: 26/06/2007

Code: 41167233

Lawbook Co., AUSTRALIA

Enquiry Sent

A member of our support team will be in touch with you within 1 business day.

Enquiry Form

Federal Circuit Court Guidebook Online
Description
The Federal Circuit Court Guidebook (fornerly Federal Magistrates Court Guidebook) is a regularly updated practice guide for practitioners who appear in the Federal Circuit Court . The Guidebook keeps pace with the wide-ranging jurisdiction of the Court through a program of regular updating. It contains practical annotation commentary to the various jurisdictions of the Court and annotations to the Federal Magistrates Court Act and Rules, as well as a variety of tools assisting effective practice in the Court, such as relevant cases and recent developments.

Legislation in the online service is updated as soon as possible after legislative amendments commence, providing subscribers with regularly updated legislation. The legislation currency information and status flag, above the full-text, is updated daily so that subscribers are aware of all incorporated, pending and future amendments.
* Price is for a single annual subscription for firms or businesses with one practitioner. Practitioner is defined as employed and/or self-employed professionals within Australia including: solicitors, self-employed barristers, HR professionals and environmental specialists, corporate counsel, accountants including CPAs and CAs and registered tax agents and financial planners. For pricing for government departments and authorities and multiple users
submit an enquiry online
or call 1300 304 195.