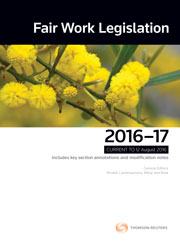 Fair Work Legislation 2016 - 17 eBook
eBook - ProView

Date: 29/09/2016

Code: 9780455238210

Lawbook Co., AUSTRALIA

Fair Work Legislation 2016 - 17 eBook
Description
Thomson Reuters' Fair Work Legislation 2016–17 comprises a comprehensive suite of the current federal workplace legislation capturing the latest amendments up to 12 August 2016. The legislation includes:
the Fair Work Act 2009 (FW Act) and regulations;
the Fair Work (Transitional Provisions and Consequential Amendments) Act 2009 and regulations;
the Fair Work (Registered Organisations) Act 2009 and regulations;
the Fair Work Commission Rules 2013;
the Fair Work (Building Industry) Act 2012 and regulations;
the Building Code 2013 [extract];
the Fair Entitlements Guarantee Act 2012 and related regulations;
the Competition and Consumer Act 2010;
the Federal Court of Australia Act 1976;
the Federal Court and Federal Circuit Court Regulation 2012;
the Federal Court Rules 2011;
the Federal Circuit Court of Australia Act 1999 [extract];
the Federal Circuit Court Rules 2001 [extracts];
the Independent Contractors Act 2006 and regulations;
the Paid Parental Leave Act 2010 and rules; and
the Workplace Gender Equality Act 2012 and related instruments.
Fair Work Legislation 2016–17 includes revised commentary on key provisions of the FW Act, featuring many additional sections. Also included are articles reviewing the first seven years of the adverse action provisions of the FW Act, and the Royal Commission into Trade Union Governance and Corruption, together with an extensive summary of developments since the last edition in the Year in Review.
Significant cases over the past year, detailed in the commentary, include:
Fair Work Ombudsman v Quest South Perth Holdings Pty Ltd (2015) 256 CLR 137; 90 ALJR 107; [2015] HCA 45 – in which the High Court considered the application of the "sham contracting" prohibition (s 357 of the FW Act) to tripartite labour hire arrangements. The High Court held that s 357 still applies even if the misrepresentation is made by the employer about the relationship between the labour hire company and the worker.
Commonwealth v Director, Fair Work Building Industry Inspectorate (2015) 90 ALJR 113; 255 IR 87; [2015] HCA 46 – in which the High Court decided that courts are able to consider an agreement between the parties on penalties, or submissions by a regulator on the quantum or range of penalties.
Australian Mines and Metals Association Inc v Maritime Union of Australia [2016] FCAFC 71 and Esso Australia Pty Ltd v Australian Workers' Union [2016] FCAFC 72 – in these two Full Federal Court judgments, the Federal Court has adopted a wide approach to when industrial action will be protected. Protection will be lost under s 413(5) only if there has been a contravention of a FWC order in operation at the time of the proposed industrial action.
Hart v Coles Supermarkets Australia Pty Ltd [2016] FWCFB 2887 – where a Full Bench of the FWC adopted a strict approach to applying the "better off overall test" (BOOT) regarding all award-covered employees under the proposed agreement. The Full Bench concluded that the BOOT was not satisfied, particularly as employees working at times attracting award penalty rates would not be better off under the proposed agreement.
Transport Workers' Union of Australia v ALDI Foods Pty Ltd (2016) 255 IR 248; [2016] FWCFB 91 – in which a Full Bench of the FWC upheld the employer's ability to enter into an agreement with employees in a new geographical area as a single-enterprise employee agreement, rather than as a greenfields agreement.
The legislation also incorporates the amendments made by the Fair Work Amendment Act 2015 (Act 156, 2015 – Sch 1, Pts 1, 5, 7 and Sch 2 effective 27 November 2015 and Sch 1, Pt 10 effective 1 January 2016) which, amongst other changes, extends good faith bargaining rules to greenfields agreements. The amending legislation also implements a prohibition on the taking of protected industrial action before bargaining has formally commenced, and requires discussions before an employer is able to refuse a request for an extension to unpaid parental leave.
GENERAL EDITORS
Mark Rinaldi BJuris(Hons) LLB BA (UWA), LLM Grad Dip Corporations and Securities Law (Melb), Barrister
Mark Rinaldi is a leading industrial and employment law barrister. Prior to joining the Victorian Bar in 1997, Mark was a solicitor and Senior Associate at Freehills in Perth and Melbourne in commercial litigation and employee relations. He was also Associate to Justice French of the Federal Court (now French CJ of the High Court) in 1990 – 91. Mark appears regularly in State and Federal courts, the Fair Work Commission, VCAT and other tribunals, as well as providing advice and conducting mediations and inquiries, predominantly in employment, industrial and commercial law matters. Mark joined the Tasmanian Bar in 2008 and now has chambers in both Melbourne and Hobart. He is also an interstate member of the Western Australian Bar.
Victoria Lambropoulos, LLM (Melb), BA, LLB (Mon), Lecturer, Deakin University Law School, Barrister, Victorian Bar
Victoria Lambropoulos lectures at Deakin University in Melbourne and Geelong where she teaches Workplace Law and Company Law. Victoia has held this position for over 10 years. She is also a member of the Victorian Bar. Victoria writes regularly for academic and practitioner journals on employment and industrial relations issues. She is also a regular presenter at practitioner and academic conferences both in Australia and internationally. She is also President of the Industrial Relations Society of Victoria, a committee member of the Australian Labour Law Association and co-convenor of the Victoria chapter and is a member of the Industrial Bar Association of Victoria.
Rohan Millar LL M, B Com (Melb), Barrister at Law
Rohan Millar is a Melbourne barrister practising in employment law. He appears regularly in the Fair Work Commission and the courts, particularly in cases involving termination of employment, post-employment restraints, discrimination, employment contracts and industrial disputes. Prior to joining the bar he was a solicitor at Mallesons Stephen Jaques and Arthur Robinson & Hedderwicks.
Aaron Neal BEco, LLB (Hons) (Syd), Solicitor, Supreme Court of New South Wales
Aaron Neal has extensive experience in workplace relations and employment law, having been an Associate to Justice Marshall of the Federal Court of Australia, a Legal and Policy Officer at the Commonwealth Department of Employment and Workplace Relations, practiced as a barrister at the New South Wales Bar, and worked as in house lawyer at a number of Unions, most recently as Senior National Legal Officer at the Maritime Union of Australia, Sydney.
*
eBooks and packages including an eBook may not be returned once the software key has been supplied. Your rights as a customer to access and use the ProView™ software and a ProView eBook are subject to acceptance of the ProView content licence agreement.
NB
An email with a registration key and instructions for accessing your eBook will be sent after checkout. For existing ProView users the eBook will appear in your library after checkout.

Forthcoming/pre-order eBooks will be available after the publication date.

The ProView app is not currently available on IPhone or Kindle. See the latest system requirements