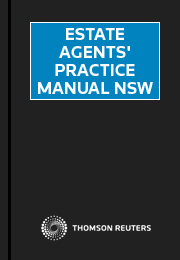 Estate Agents' Practice Manual NSW: Scott
Looseleaf

Date: 14/09/2012

Code: 30125046

Lawbook Co., AUSTRALIA

Enquiry Sent

A member of our support team will be in touch with you within 1 business day.

Enquiry Form

Estate Agents' Practice Manual NSW: Scott
Description
The manual, re-written by a team of specialists, covers how to conduct an estate agency business, including step-by-step guides to selling property and helps in understanding the practice and legal issues which arise for real estate agents.
The content covers: key legislation regulating administration of real estate businesses explained in plain English terms; formal compliance with industry codes; compilation and explanation of forms and how to complete; reference tools for agents in all real estate dealings; explanation of the impact of GST related issues on this industry and relevant Case Digests which are referenced to the commentary.
*
Price is for an annual subscription and includes all updates issued during this period.