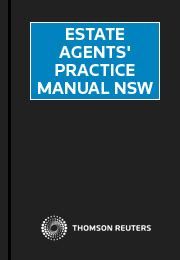 Estate Agents' Practice Manual NSW Online
Online

Date: 11/03/2009

Code: 41167227

Lawbook Co., AUSTRALIA

Enquiry Sent

A member of our support team will be in touch with you within 1 business day.

Enquiry Form

Estate Agents' Practice Manual NSW Online
Description
The manual, re-written by a team of specialists, covers how to conduct an estate agency business, including step-by-step guides to selling property and helps in understanding the practice and legal issues which arise for real estate agents.
The content covers: key legislation regulating administration of real estate businesses explained in plain English terms; formal compliance with industry codes; compilation and explanation of forms and how to complete; reference tools for agents in all real estate dealings; explanation of the impact of GST related issues on this industry and relevant Case Digests which are referenced to the commentary.
* Price is for a single annual subscription for firms or businesses with one practitioner. Practitioner is defined as employed and/or self-employed professionals within Australia including: solicitors, self-employed barristers, HR professionals and environmental specialists, corporate counsel, accountants including CPAs and CAs and registered tax agents and financial planners. For pricing for government departments and authorities and multiple users
submit an enquiry online
or call 1300 304 195.