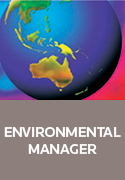 Environmental Manager Email
Email

Date:

Code: 30169009

Thomson Reuters, AUSTRALIA

Enquiry Sent

A member of our support team will be in touch with you within 1 business day.

Enquiry Form

Environmental Manager Email
Description
Your weekly environmental news and analysis service for Australian business
Gain instant access to clear, relevant information on current environmental issues — illuminated by in-depth analysis.
For a sample issue, click here.
Environmental Manager covers: environmental law, including changes to federal and state environmental legislation; environmental prosecutions and fines; environmental management systems and compliance; sustainability and waste management tactics for the Australian workplace, case studies of the best and worst industry practice, and global environmental trends and initiatives.
For a complimentary three-week trial to Environmental Manager or more information click here.
See also Environmental Manager's related title Carbon Extra.
SOCIAL MEDIA
Follow Environmental Manager on Twitter
Follow Carbon Extra on Twitter
* Prices for email and online formats are for a single annual subscription. For information on multi-user pricing and/or Site/IP Authenticated licence rates please call us on 1300 304 195.