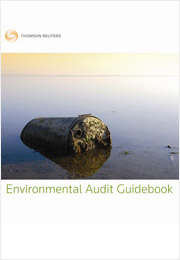 Environmental Audit Guidebook
Looseleaf

Date: 08/08/2012

Code: 30131807

Thomson Reuters, AUSTRALIA

Enquiry Sent

A member of our support team will be in touch with you within 1 business day.

Enquiry Form

Environmental Audit Guidebook
Description
Authored by Graham A. Brown & Associates, one of Australia's leading environmental consultancies, Environmental Audit Guidebook gives you practical assistance through every stage of the audit process, providing the knowledge and practical tools to assist in achieving better outcomes for organisations. Environmental Audit Guidebook explains why, when and how to conduct effective environmental audits, refine your auditing objectives and define your scope, and implement and monitor the results. It will help you to understand types of environmental audits, how to commission a voluntary environmental audit, audit protocol and environmental self-assessment.
Environmental Management Systems is a companion service.
*
Subscription price is for initial purchase only. All updates will be invoiced separately.