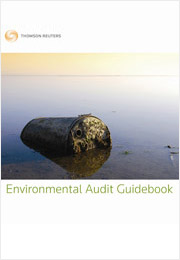 Environ Audit Guidebook: Online (Westlaw AU)
Online

Date: 14/02/2014

Code: 41569539

Thomson Reuters, AUSTRALIA

Enquiry Sent

A member of our support team will be in touch with you within 1 business day.

Enquiry Form

Environ Audit Guidebook: Online (Westlaw AU)
Description
Authored by Graham A. Brown & Associates, one of Australia's leading environmental consultancies, Environmental Audit Guidebook gives you practical assistance through every stage of the audit process, giving you practical assistance to help you achieve better outcomes for your organisation. Environmental Audit Guidebook explains why, when and how to conduct effective environmental audits, refine your auditing objectives and define your scope, and implement and monitor the results. It will help you to understand types of environmental audits, how to commission a voluntary environmental audit, audit protocol and environmental self-assessment.
Features three updates per year.
*
Price is for a single annual subscription for firms or businesses with one practitioner. Practitioner is defined as employed and/or self-employed professionals within Australia including: solicitors, self-employed barristers, HR professionals and environmental specialists, corporate counsel, accountants including CPAs and CAs and registered tax agents and financial planners. For pricing for government departments and authorities and multiple users submit an enquiry online or call 1300 304 195.