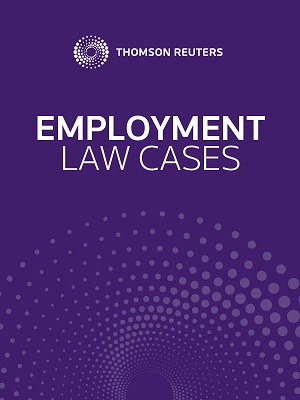 Employment Law Cases
Online

Date: 31/03/2017

Code: 42054708

Thomson Reuters, AUSTRALIA

Enquiry Sent

A member of our support team will be in touch with you within 1 business day.

Enquiry Form

Employment Law Cases
Description
Employment Law Cases online is a comprehensive, searchable collection of full text case law on employment matters decided by the High Court, Federal Court, State Supreme Courts as well as decisions of important lower courts and tribunals including District Courts, administrative tribunals and industrial relations bodies.
This collection is a practice area slice of the popular Unreported Judgments. Now available as a separate product on Westlaw AU, you will also be able seamlessly link through to related cases, articles and commentary works to complete your research needs in a single platform.
Features
More focused research. Our topical Employment Law Cases databases provide select collections of specialist employment related case law.
Daily updating. A case is classified and uploaded to the specific case law database as soon as it is received from a court or tribunal.
Daily automated case selection from our vast collection of case records, ensuring quick access to the latest cases.
Westlaw AU integration – enjoy single-click access to full-text judgments from your other Thomson Reuters subscription content including online commentaries, law reports, The Laws of Australia encyclopaedia and Alert24 legal news service
Fully searchable law report and original judgment PDFs (where available)*.
An advanced search template, including an option to limit searching to reported cases only or to a specific law report series.
*
Price is for a single annual subscription for firms or businesses with one practitioner. Practitioner is defined as employed and/or self-employed professionals within Australia including: solicitors, self-employed barristers, HR professionals and environmental specialists, corporate counsel, accountants including CPAs and CAs and registered tax agents and financial planners. For pricing for government departments and authorities and multiple users submit an enquiry online or call 1300 304 195.