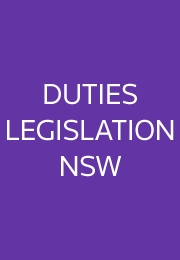 Duties Legislation NSW (WestlawAU)
Online

Date: 31/07/2009

Code: 41182426

Thomson Reuters, AUSTRALIA

Enquiry Sent

A member of our support team will be in touch with you within 1 business day.

Enquiry Form

Duties Legislation NSW (WestlawAU)
Description
Duties Legislation NSW provides detailed commentary in an easy-to-use format on the NSW and ACT duties legislation, written by barristers Holger Sorensen, Stephen McMillan and David Raphael in conjunction with Bill Cannon, a partner at Blake Dawson Waldron.

The authors' in-depth discussion of the implications of the provisions assists users in their understanding of stamp duties law and guides you through the key conceptual areas of the NSW legislation model. Including the relevant legislation, you will find this service a practical and essential addition to your practice.

This work was originally written by the late Justice Graham Hill, judge of the Federal Court of Australia. Thomson is very proud of its long association with such a well-respected author.

Updates four times per year (approx). This service now comes with the State Taxes Bulletin, to keep subscribers informed of any changes to the state taxes environment in between updates to their looseleaf service. The bulletin updates six times per year (approx).


*
Price is for a single annual subscription for firms or businesses with one practitioner. Practitioner is defined as employed and/or self-employed professionals within Australia including: solicitors, self-employed barristers, HR professionals and environmental specialists, corporate counsel, accountants including CPAs and CAs and registered tax agents and financial planners. For pricing for government departments and authorities and multiple users submit an enquiry online or call 1300 304 195.