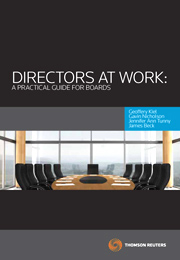 Directors at Work: A Practical Guide for Boards
Book

Date: 17/09/2012

Code: 9780864607805

Thomson Reuters, AUSTRALIA

Directors at Work: A Practical Guide for Boards
Description
Directors at Work: A Practical Guide for Boards is a practical tool for directors and boards looking to implement leading practice corporate governance in their organisations. This book discusses contemporary issues in corporate governance, ways in which boards, directors and their advisers can be effective, and ways to improve their governance processes and procedures. Directors at Work also discusses board behavioural dynamics, which deals with the types of behaviours that either support or destroy good governance, an area that is at the heart of effective decision making by any board.
The centerpiece of Directors at Work is The Corporate Governance Practice Framework. A complete down-to-earth approach to ensure your board is meeting all of its governance responsibilities, while recognizing that these is no "one-size-fits-all". It is a framework which has been adopted by a large number of organisations as the basis for their governance documentation.
Authored by leading practitioners and academics in the corporate governance area, the recommendations contained in this book are practical and specific, and based on extensive research, discussions with hundreds of Australian directors, and lessons learned in the field as some of Australia's most experienced governance consultants.
Directors at Work: A Practical Guide for Boards, provides practical advice on how to:
Ensure your governance activities meet Australian law;
Select new directors and form a board;
Define the key roles within governance;
Identify and operationalise the key functions a board must undertake;
Implement effective governance processes such as setting board agendas and taking minutes;
Assist individual directors and boards continually develop while providing reasonable protection for directors as they go about their duties; and
Recognise the behavioural dynamics that impede effective governance processes and decision making.
The book is suitable for all types of organisations with a governing body (ie a board, council, committee, senate, etc), including:
Listed companies;
Private companies;
Not-for-profit organisations;
Government business enterprises and authorities;
Universities;
Other entities not governed by the Corporations Act 2001.
If you are looking for a practical handbook for directors, and will only buy one book on being a director this year, then Directors at Work: A Practical Guide for Boards is the book for you!
Features
Based on the experience and knowledge of leading academics and practitioners in the area of corporate governance
Understand the practicalities of implementing a leading and effective corporate governance system in Australia
Features examples of corporate governance policies, worksheets, models and templates to make it easier for readers to develop a corporate governance charter
Clearly written, it is a book you can read from cover to cover as well as dip into to solve a specific governance issue


Editorial Reviews
Testimonial from John HC Colvin FAICD, CEO and Managing Director, Australian Institute of Company Directors:
"Directors at Work: A Practical Guide for Boards complements the catalogue of publications about Australian directorship and boards that the Australian Institute of Company Directors has published for over 20 years. Well written and comprehensive, this book not only seeks to educate individual company directors, but also to enhance the operation and performance of boards, and through them, the organisations they govern. In an uncertain and ever-shifting governance landscape, Directors at Work provides guidance and a truly Australian perspective. It is a practical guide as well as a helpful reference. I commend it to you."
Extract from the Foreword of the book written by James Strong AO, Chairman of Woolworths Limited:
"This publication provides a rich source of practical advice, guidance and materials to help those aspiring to achieve good standards of governance across a wide range of organisations, vital to our well organised community."
Table of Contents
The topics covered in the book include:
The changing nature of corporate governance;
The regulatory framework of corporate governance;
Defining governance roles;
Key board functions;
Improving board processes;
Board effectiveness;
Board behavioural dynamics;
Preparing your Corporate Governance Charter; and
Future directions in corporate governance.