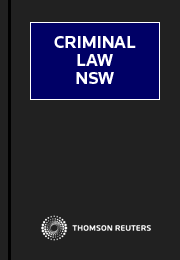 Criminal Law NSW Online
Online

Date: 22/07/2003

Code: 41167531

Lawbook Co., AUSTRALIA

Enquiry Sent

A member of our support team will be in touch with you within 1 business day.

Enquiry Form

Criminal Law NSW Online
Description
Comprehensive coverage of the criminal law in NSW for both summary and indictable offences
Criminal Law NSW provides subscribers with full annotations to all the major legislation, offences broken down into their elements and, where possible, draft indictments. Structured to follow the general conduct of a criminal law matter, the discussions are topical and extensively cross-referenced which allows for intuitive researching.
Features
Authoritative, thorough and challenging commentary: offers extensive and in depth insights especially in relation to the Crimes Act 1900, to support pre trial preparation or court appearances.
Easy to use: major criminal legislation is reproduced in whole without separating its contents into topics while all other legislation that create offences are covered or summarised to aid in research.
Criminal Law NSW Noticeboard: subscribers also receive access to the Criminal Law NSW Noticeboard which keeps readers up to date with all of the latest legislative and case developments related to the practice of criminal law in NSW, as it occurs.
Experienced authors: Greg Hosking and Martin Blackmore were both deputy directors of the DPP before becoming District Court judges and have a wealth of criminal law experience.
* Price is for a single annual subscription for firms or businesses with one practitioner. Practitioner is defined as employed and/or self-employed professionals within Australia including: solicitors, self-employed barristers, HR professionals and environmental specialists, corporate counsel, accountants including CPAs and CAs and registered tax agents and financial planners. For pricing for government departments and authorities and multiple users
submit an enquiry online
or call 1300 304 195.