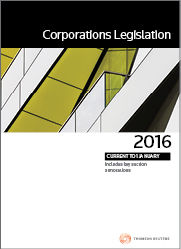 Corporations Legislation Online
Online

Date: 01/02/2008

Code: 41167432

Thomson Reuters, AUSTRALIA

Enquiry Sent

A member of our support team will be in touch with you within 1 business day.

Enquiry Form

Corporations Legislation Online
Description
This online service offers an enhanced and speedily updated edition of the Corporations and ASIC legislation. Perfect for use by practitioners and business professionals needing easy access to current legislation, it complements and builds on Thomson's applauded annual desk book edition of Corporations Legislation. The service is delivered through Thomson's easy-to-use online platform.

Annotations written by Edmund Finnane, a Sydney barrister provide additional guidance. Updated regularly through the year, the notes detail cases interpreting key provisions of the Corporations Act 2001. Without the annual book's page constraints, Corporations Legislation Online allows for extra annotations in future.

Monitoring developments for practitioners, Professor Robert Baxt provides an annual review of significant corporations law highlights.

Legislation included:

Corporations Act 2001 and Corporations Regulations 2001
Australian Securities and Investments Commission Act 2001 and ASIC Regulations 2001
Corporations (Fees) Act 2001 and other related legislation
Acts Interpretation Act 1901 and relevant extracts eg from Criminal Code Act 1995
Court Rules governing proceedings under the Corporations Act or the ASIC Act - includes the Federal Court (Corporations) Rules 2008, relevant States and Territory Rules as well as the Takeovers Panel Rules for Proceedings.
* Price is for a single annual subscription for firms or businesses with one practitioner. Practitioner is defined as employed and/or self-employed professionals within Australia including: solicitors, self-employed barristers, HR professionals and environmental specialists, corporate counsel, accountants including CPAs and CAs and registered tax agents and financial planners. For pricing for government departments and authorities and multiple users
submit an enquiry online
or call 1300 304 195.