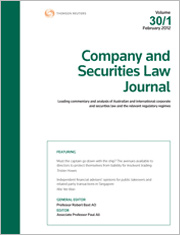 Company and Securities Law Journal: Online (Westlaw AU)
Online

Date: 28/10/2008

Code: 41167152

Lawbook Co., AUSTRALIA

Enquiry Sent

A member of our support team will be in touch with you within 1 business day.

Enquiry Form

Company and Securities Law Journal: Online (Westlaw AU)
Description
Leading commentary and analysis of Australian and international corporate and securities law and the relevant regulatory regimes

The Company and Securities Law Journal is well-known for its high quality articles written by leading specialists in corporate, securities and takeovers law. It provides both scholarly and practical perspectives on a range of dynamic and important subjects of interest to the Australian legal and business communities.

Whether you are a lawyer, accountant, company director, stockbroker or academic, there is detailed coverage to suit your information needs. Topics range from comments on the lack of confidence in the Australia securities markets and how an increased effort by regulators to improve enforcement of existing laws prohibiting market misconduct is needed to restore confidence, to insider trading case law dealing with "generally available" and "materiality" carve-outs and articles around the questions "do we need regulation in the way in which litigation funders should operate"?

Online, the Journal features the full backset to Volume 1, 1983, with links to judgments, legislation and other online publications, while allowing for individual articles to be downloaded in pdf format or received via RSS feed.

There are approximately eight Parts and one Bound Volume published each year (receipt of Parts and/or Bound Volumes will depend on your subscription choice).

To access articles and information on all of our journals, to submit an article or to join our community and have your say, visit Journals Talk at http://sites.thomsonreuters.com.au/journals/.
* Price is for a single annual subscription for firms or businesses with one practitioner. Practitioner is defined as employed and/or self-employed professionals within Australia including: solicitors, self-employed barristers, HR professionals and environmental specialists, corporate counsel, accountants including CPAs and CAs and registered tax agents and financial planners. For pricing for government departments and authorities and multiple users
submit an enquiry online
or call 1300 304 195.