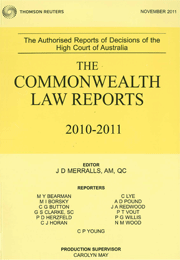 Commonwealth Law Reports Online
Online

Date: 27/03/2007

Code: 41167129

Lawbook Co., AUSTRALIA

Enquiry Sent

A member of our support team will be in touch with you within 1 business day.

Enquiry Form

Commonwealth Law Reports Online
Description
As the authorised reports of the High Court, the prestigious Commonwealth Law Reports have published full text High Court decisions since 1903. Being the authorised reports, every judgment and headnote is checked by the judges of the High Court before inclusion in the Commonwealth Law Reports.

Each reported judgment includes a comprehensive headnote, written by an expert reporter, and approved by the High Court. Headnotes highlight the key issues of each case and include a summary of counsels' arguments to the High Court. The Commonwealth Law Reports also include tables of cases reported, affirmed, reversed, overruled, applied or judicially commented on and cited, making it easy to find the precise information needed.
The online version has a full archive and includes PDF versions of the reports. It features links to FirstPoint to allow FirstPoint subscribers to quickly check the history and currency of a decision.
* Price is for a single annual subscription for firms or businesses with one practitioner. Practitioner is defined as employed and/or self-employed professionals within Australia including: solicitors, self-employed barristers, HR professionals and environmental specialists, corporate counsel, accountants including CPAs and CAs and registered tax agents and financial planners. For pricing for government departments and authorities and multiple users
submit an enquiry online
or call 1300 304 195.