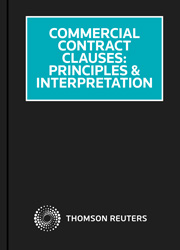 Commercial Contract Clauses Online
Online

Date: 15/02/2008

Code: 41167329

Lawbook Co., AUSTRALIA

Enquiry Sent

A member of our support team will be in touch with you within 1 business day.

Enquiry Form

Commercial Contract Clauses Online
Description
Commercial Contract Clauses: Principles and Interpretation is the first systematic analysis of the process of construing and interpreting commercial contracts on a clause-by-clause basis. This work distinguishes itself from other general works of contractual scholarship in squarely addressing problems arising in the daily tasks of preparing, advising on and disputing written agreements. The authors, Joshua Thomson and Leigh Warnick of the Western Australian Bar and Justice Kenneth Martin, focus closely on providing a practical analysis of difficult legal issues engaging with a wide range of Australian and international case law.
* Price is for a single annual subscription for firms or businesses with one practitioner. Practitioner is defined as employed and/or self-employed professionals within Australia including: solicitors, self-employed barristers, HR professionals and environmental specialists, corporate counsel, accountants including CPAs and CAs and registered tax agents and financial planners. For pricing for government departments and authorities and multiple users
submit an enquiry online
or call 1300 304 195.