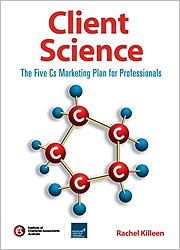 Client Science
Book

Date: 01/08/2012

Code: 9780864607911

Thomson Reuters, AUSTRALIA
Description
What does marketing actually mean for professional people, in practice and in industry?
Client Science by Rachel Killeen makes marketing accessible, logical and easy to implement for any practicing professionals with the 5Cs marketing planning process.
Many marketing books focus purely on FMCG and retail, but professional services marketing requires an entirely different set of marketing tools. Client Science is different from most marketing books, because it uses practical examples specific to professional services firms.
Professional services business is about building trusted client relationships, value proposition to meet client needs, and prioritisation. Client Science encourages you to evaluate the profitability of your clients, your services and your communications.
If you are a partner looking to develop your client-base, or in a firm seeking to retain clients in a competitive environment, Client Science gives you the tools to guide the marketing of your firm or business and it puts you in control of the marketing process.
Client Science is designed to enable you to put together a marketing plan in five clear steps.
Collate is the first step and that means research. Know your business, know your clients and know your competition. Client Science show you how.
Then you need to Create your value proposition. The market has changed, client needs are changing – how do you evolve to meet those needs and still remain profitable? Client Science helps you to focus on innovation and create a compelling proposition for clients.
The third part of your plan is to communicate. Impressive communication is always simple, relevant and meaningful. Rachel give you ideas to help you navigate digital media, PR and promotional opportunities
Make Collaboration part of your plan. Collaborate with clients, community leaders and even competitors to improve your business performance.
The final step is to Calculate the success of your marketing drive – and this book show you how to do that.
About the Author
Rachel Killeen has worked with accountants, bankers, legal and medical professionals for over twenty years – helping them to manage their business better. "Never in my entire career has there been such pressure on accountants to do so much, with so little. I wrote Client Science to help people like you, in the professional services industry, to maximise your skills, the value you offer to clients and the income that you make from your expertise. I wrote this book to help you to become a better leader, a better practitioner and a better communicator so that you can be even more successful in your professional career," says Rachel.
Table of Contents
Introduction
Part I: Collate
Set Objectives: Agree your top five goals
Practice Analysis: Five levels of understanding
Customer Relationship Management: Five ways to find new clients
Clients: Five important client insights
Competition: High five! Be the best in the market
Part II: Create
Differentiation: Five ways to make your practice stand out
Client Satisfaction: The five-questions market research survey
Value for Money: Five great value propositions for clients
Relationships: Impress your clients in five seconds
Service: The five-star client experience
Part III: Communicate
Branding: Get your practice noticed in five simple steps
Personal Selling: Five ways to sell your story
Promotion: Five media you can afford to pay for
Public Relations: Five ways to get free publicity
Digital Media: Five ways to engage clients
Part IV: Collaborate
The Five Cs of Collaboration
Part V: Calculate
Five tools to measure marketing success
* This is a non-subscription purchase of Client Science.

Members of the Institute of Chartered Accountants in Australia (the Institute) are entitled to a discount on this publication. If the discount has not been applied, or you do not know the promo code, please refer to the Institute's website to access this.

A REVENUE GROWTH STRATEGY THAT WORKS
BizActions is a powerful digital business development platform for accountants that incorporates a host of targeted marketing communication tools and reporting metrics - and provides professionally written client newsletter content tailored for the Australian market.
---
Hear from Rachel Kileen,
the author of Client Science