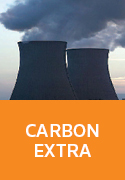 Carbon Extra and Environmental Manager Email
Email

Date:

Code: 30169073

Thomson Reuters, AUSTRALIA

Enquiry Sent

A member of our support team will be in touch with you within 1 business day.

Sales Enquiry Form

Carbon Extra and Environmental Manager Email

For questions about how to use this product or to get help with your account please visit the Help Centre or Contact Support directly.
Description
Subscribing to Carbon Extra and Environmental Manager is the easiest and best way of staying on top of environmental and climate change issues and emerging developments.

Carbon Extra and Environmental Manager keep environmental professionals, executives, accountants and lawyers informed on changes to federal and state legislation, prosecutions and fines, guidelines, discussion papers and new research and case studies of best and worst industry practice.
CARBON EXTRA
To ensure your business is prepared for this new operating environment it will be essential to keep up to date with important new and emerging policy changes and industry developments.

Building on Thomson Reuters' reputation for cutting-edge news and information, Carbon Extra brings you independent, intelligent news and analysis on climate change and carbon risk.

Carbon Extra's specialist editor and journalists source and deliver in-depth coverage of policy and regulatory developments, updates on significant global trends plus interviews with senior stakeholders from government, industry, NGOs and practitioners.
For a sample issue of Carbon Extra, click here.
ENVIRONMENTAL MANAGER
Gain instant access to clear, relevant information on current environmental issues — illuminated by in-depth analysis.
Environmental Manager covers environmental law, including changes to federal and state environmental legislation; environmental prosecutions and fines; environmental management systems and compliance to ISO 14001:2004; sustainability and waste management tactics for the Australian workplace, and global environmental trends and initiatives.
For a sample issue of Environmental Manager, click here.
For a complimentary three-week trial to Environmental Manager and Carbon Extra or for more information click here.
Environmental Manager is published on Tuesdays and Carbon Extra on Fridays.
SOCIAL MEDIA
Follow Carbon Extra on Twitter
Follow Environmental Manager on Twitter