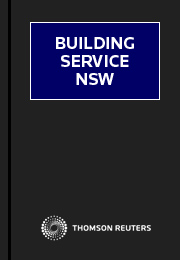 Building Service NSW Online
Online

Date: 15/05/2007

Code: 41167114

Lawbook Co., AUSTRALIA

Enquiry Sent

A member of our support team will be in touch with you within 1 business day.

Enquiry Form

Building Service NSW Online
Description

The Building Service NSW 4 Volumes contains the BCA Class 2 to Class 9 Buildings and BCA Class 1 and Class 10 Buildings Housing Provisions and NSW building legislation. Commentary on the main provisions of the BCA is located directly under the relevant provision. Colin MacLeman, an experienced building professional, updates the commentary when the BCA is amended annually, with further expert commentary on significant clauses offering practical guidance as to interpretation and compliance being added throughout the year to maintain a higher level of currency for the subscribers.

Other features include tables compiled by author, Colin MacLeman:

• Commentary on the definitions set out in A1.1
• Commentary on terms used in the BCA, but which are not defined in the BCA
• BCA provisions relevant to Architects and Surveyors
• Standards relevant to Architects and Building Surveyors.

A New Developments section covers a range of related materials to keep users abreast of change.

The Building Service NSW Vol 3 contains NSW building legislation. The legislation comprises:

Local Government Act 1993 (Extracts)
Local Government (General) Regulation 2005
Local Government (Savings and Transitional) Regulation 1993
Environmental Planning and Assessment Act 1979 (Extracts)
Environmental Planning and Assessment Regulation 2000 (Extracts)
Buildings Professionals Act 2005
Home Building Act 1989
Home Building Regulations 2004
Building and Construction Industry Security of Payment Act 1999
Building and Construction Industry Security of Payment Regulation 2008.
The Building Service NSW Vol 4 contains related NSW building legislation:

Encroachment of Buildings Act 1922
Swimming Pools Act 1992
Swimming Pools Regulation 2008
Local Government (Manufactured Home Estates, Caravan Parks Camping Grounds and Moveable Dwellings) Regulation 2005
Private Hospitals and Day Procedures Centres Act 1988 (Extracts)
Day Procedures Centres Regulation 1996 (Extracts)
Private Hospitals Regulation 1996 (Extracts)
Liquor Act 2007
Liquor Regulation 2008
Registered Clubs Act 1997 (Extracts)
Electricity Supply Act 1995 (Extracts)
Occupational Health and Safety Act 2000 (Extracts)
Occupational Health and Safety Regulation 2001 (Extracts).

The expansion of related legislation now covers the Building and Construction Industry Security of Payment Act 1999 annotated by Stephen Pyman (Holding Redlich) and cross-referenced to the Building and Construction Industry Security of Payment Regulation 2004; Liquor legislation relevant to building, heavily annotated by Sydney Barrister Anthony Hatzis and the Home Building legislation is being progressively annotated by Sydney barrister Phillip Bambagiotti. Orignally written by Michael Tooma (Partner, Norton Rose OHSS), whose expertise in the OHS area is highly respected and now updated by Sam Witton (Norton Rose) , who outlines in this chapter the OHS legal obligations of companies operating in the building and construction industry in New South Wales. He covers the general duties and their application in the context of the industry and outlines the specific obligations imposed by the OHS regulations in relation to construction safety. The common causes of workplace fatalities in the construction industry, through the use of case law examples, is explored.

Note: Thomson Reuters publishes the Building Service NSW 3 Volume Option and the Building Service NSW 4 Volume Option. The National Building Service and Building Service NSW Vols 1 and 2 are identical. The Building Service NSW 3 Volume Option and Building Service NSW 4 Volume Option will appeal to customers who deal with NSW matters as they include state specific building legislation.

The online service is maintained as Law in Force. Legislation in the online service is updated as soon as possible after legislative amendments commence, providing practitioners with regularly updated legislation. The legislation currency information and status flag, above the full-text, is updated daily so that practitioners are aware of all incorporated, pending and future amendments. Integration with other Thomson Reuters online publications is available (dependent on subscription profile) such as Planning & Development NSW, Building & Construction Contracts in Australia and the Building & Construction Law Journal which includes a special report series and Local Government Law & Practice NSW.
* Price is for a single annual subscription for firms or businesses with one practitioner. Practitioner is defined as employed and/or self-employed professionals within Australia including: solicitors, self-employed barristers, HR professionals and environmental specialists, corporate counsel, accountants including CPAs and CAs and registered tax agents and financial planners. For pricing for government departments and authorities and multiple users
submit an enquiry online
or call 1300 304 195.