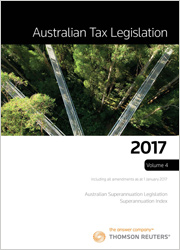 Australian Tax Legislation 2017 Volume 4 (Superannuation)
Book

Date: 08/02/2017

Code: 9780864699206

Thomson Reuters, AUSTRALIA

Enquiry Sent

A member of our support team will be in touch with you within 1 business day.

Enquiry Form

Australian Tax Legislation 2017 Volume 4 (Superannuation)
Description
Click here to pre-order the 2018 edition - Available February 2018.
The Australian Tax Legislation 2017 Volume 4 contains all essential superannuation related legislation (including pending legislation) in an easy-to-follow, logical layout.
It consolidates all legislation and amendments in force as at 1 January 2017 and includes history notes to aid interpretation of tax laws. Some of the Acts, Regulations and Extracts reproduced are:
Superannuation Industry (Supervision) Act 1993
Superannuation Industry (Supervision) Regulations 1994
Extracts of Income Tax Assessment Act 1997
Superannuation Guarantee (Administration) Act 1992
Extracts of Corporations Act 2001 – such as Chapter 7 Financial Services and Markets
Available individually or as part of:
Australian Tax Legislation 2017 (Vols 1-4)
And in the following formats:
Features
Concise history notes for all recent amendments to tax and related legislation
Logical, convenient organisation with superannuation index and subsection headings, where appropriate
Full Index to find relevant sections and regulations
Outstanding clarity of layout and accessibility for users
*
Price is for a single edition. Purchasers must notify the publisher in writing of cancellation and returns within 30 days of the date of the invoice in accordance with Thomson Reuters' Terms of Trade.