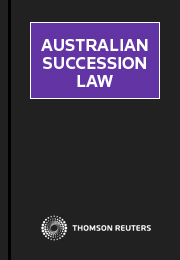 Australian Succession Law
Looseleaf

Date: 06/09/2012

Code: 30134160

Lawbook Co., AUSTRALIA

Enquiry Sent

A member of our support team will be in touch with you within 1 business day.

Enquiry Form

Australian Succession Law
Description
As state-based succession law regimes gradually move towards uniformity and cross-border issues and inter-state dealings rise in importance, succession lawyers increasingly face the challenge of working with the law of multiple jurisdictions.
Assisting practitioners, Australian Succession Law (ASL) is the first and only subscription service currently available to address the laws with respect to wills, intestacy, administration and probate and family provision Australia-wide.
The current expert team of practitioner authors includes barrister Leonie Englefield and administration and probate solicitor Madeleine Harland (named South Australian Young Lawyer of the Year in 2011).
Extensive commentary covers all jurisdictions, acknowledging uniformity and highlighting differences, making cross-border practice more accessible. Commentary on estate planning is also included in the publication, complementing the coverage of superannuation death benefits in the family provision materials.
Legislation relevant to succession law and trustees from each state and territory is reproduced and regularly updated to reflect the changes through the progressive introduction of the uniform succession laws. The text of the model laws is also reproduced for users' reference. ASL is updated approximately four times per year to ensure currency of both legislation and commentary.
While all customers benefit from the volume of topic-based commentary and the compiled state legislation regardless of their choice of format, increasingly the online format offers special benefits. As with all Thomson Reuters online works, legislation is updated more frequently than in hard copy. ASL online will also soon include an additional select archive of older legislation that customers still need to access. For example, it will include the wills legislation in NSW that had effect until the commencement of the Succession Act because it is still relevant for matters that pre-date 1 March 2008. This archive will grow with the ongoing implementation of the model laws.
It is also now available on Proview - the Thomson Reuters eReader platform that combines the ease of access inherent to the Westlaw AU platform through links to cases and cross-references with the familiarity of the looseleaf service.
* Subscription price includes 12 months of updating releases. Further updates invoiced separately.