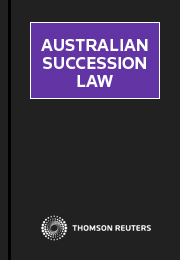 Australian Succession Law eSubscription
eSub - ProView

Date: 10/11/2013

Code: 41587763

Thomson Reuters, AUSTRALIA

Enquiry Sent

A member of our support team will be in touch with you within 1 business day.

Enquiry Form

Australian Succession Law eSubscription
Description
Only service of its kind offering national coverage of the five key areas of succession law
Australian Succession Law provides subscribers with topical and extensive commentary covering all jurisdictions, acknowledging uniformity and highlighting differences within state-based succession law regimes, making cross-border practice more accessible. The service includes practical and time saving tools and tables as well as a compilation of relevant and current legislation from all states and territories.
Features
Authoritative, thorough and challenging commentary offering in depth analysis of the latest caselaw and recent legislative changes brought about through the introduction of the uniform succession laws.
A simple and logical structure which makes it easy to search through both topics and legislation with a clear division of commentary and legislation for ease of access and research.
Reproduction of model laws as well as a select archive of older legislation that may still be relevant and need to be accessed.