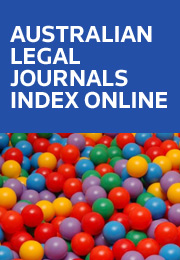 Australian Legal Journals Index Online
Online

Date: 25/10/2006

Code: 41167214

Lawbook Co., AUSTRALIA

Enquiry Sent

A member of our support team will be in touch with you within 1 business day.

Enquiry Form

Australian Legal Journals Index Online
Description
An ideal research tool: quick, thorough and intuitive
The Australian Legal Journals Index (ALJI) is the ideal way to perform comprehensive topic-based research of journal articles. The ALJI guarantees you keep up to date by browsing or searching through journal abstracts, cases referred to, legislative references, key citing information or by jurisdiction. A hassle-free way to find the comprehensive content you need from Australasian legal journals. The ALJI is an ideal research tool that is quick, thorough and intuitive.

Reliable content
Quality information from a reputable source, the Commonwealth Attorney General's Department has been compiling this information since 1971.
Currency of information
The index is frequently updated with new articles keeping you up to date with the latest developments in your area of specialisation.
Breadth of coverage
The ALJI contains more than 100,000 abstracts from over 400 journals.
Simple to use
Functionality and search tools are intuitive and require little or no training.