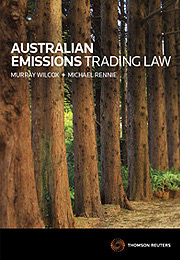 Australian Emissions Trading Law
Book

Date: 03/07/2012

Code: 9780455230139

Lawbook Co., AUSTRALIA

Australian Emissions Trading Law
Description
The introduction of Australia's carbon pricing mechanism increased the pressure on businesses and their advisors to plan responses to climate change challenges and opportunities.

Australian Emissions Trading Law is a practical introduction to the legislation that creates and governs the carbon pricing mechanism. Its detailed consideration and analysis helps corporations and their advisors understand how the different sections of the Act fit together, the shape, structure and operation of the scheme and assess the opportunities and risks it poses.

Authored by former Federal Court judge, Murray Wilcox AO QC, and Michael Rennie of the NSW Bar, Australian Emissions Trading Law explains:
Greenhouse gas emissions trading schemes
The Australian legislation, including the new Clean Energy legislation
Liability for emissions from 1 July 2012
Discharging liability for emissions
Industry assistance for trade exposed industries and coal-fired electricity generators and
Administration of the scheme, including guidance on compliance and the civil penalty provisions.
Click here to listen to Radio National's interview with Murray Wilcox, on Australia's emissions trading scheme. As co-author of Australian Emissions Trading Law and new online subscription service Australian Carbon Pricing and Trading, Murray shared his insight into the legislation behind the ETS, the spectre of a constitutional challenge to the laws and more."
"Lawyers, administrators, scientists and others who have a professional interest in the legal mechanics affecting the reduction of greenhouse gases will find in these pages a lucid explanation of this new field of law. The authors have shown that the precise meaning and operation of some provisions will be defined only by judicial interpretation but their tentative explanations of these provisions are offered with the authority of substantial experience and industry. No doubt the course of litigation and perhaps the dialectic of political controversy will spawn further examinations of the legislation, but this book is, and will remain, the groundwork for any future study."
Taken from the Foreword by the Honourable Sir Gerard Brennan AC KBE, former Chief Justice of the High Court of Australia.
Contents

Foreword by the Honourable Sir Gerard Brennan AC KBE QC
Introduction
Glossary

PART ONE—GREENHOUSE GAS EMISSIONS TRADING SCHEMES
1. Emissions trading schemes
2. Movement towards an Australian emissions trading scheme

PART TWO—OVERVIEW OF THE AUSTRALIAN LEGISLATION
3. Australian legislation before the Clean Energy Act
4. Overview of the 2011 Clean Energy legislation
5. The principal statutory authorities

PART THREE—BECOMING LIABLE FOR EMISSIONS
6. Direct emitters' liability
7. Liability for emissions from natural gas
8. The Opt-in Scheme

PART FOUR—DISCHARGING LIABILITY FOR EMISSIONS
9. Acquiring eligible emissions units
10. Surrendering eligible emissions units to discharge liability

PART FIVE— INDUSTRY ASSISTANCE
11. Trade exposed industries
12. Coal fired electricity generators

PART SIX—ADMINISTRATION
13. Publication of information
14. Review of the Regulator's decisions
15. Ensuring compliance
16. A medley of administrative provisions
17. Independent reviews

Index