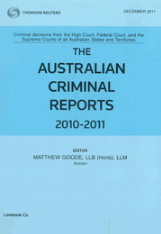 Australian Criminal Reports Online
Online

Date: 27/11/2006

Code: 41167052

Lawbook Co., AUSTRALIA

Enquiry Sent

A member of our support team will be in touch with you within 1 business day.

Enquiry Form

Australian Criminal Reports Online
Description
Criminal law is constantly evolving; so staying up-to-date can be challenging. As the only specialist criminal law report series in Australia, the Australian Criminal Reports are an indispensable guide to the latest authoritative decisions of the leading courts in all Australian criminal law jurisdictions.

The Australian Criminal Reports publish carefully selected criminal cases from the High Court and the Federal Court of Australia and the Supreme Courts of the States and Territories dating back to 1979. Each case features an invaluable headnote, prepared by experienced criminal law practitioners, which outlines the key issues considered in the judgment.

The online version has a full archive. It features links to FirstPoint to allow FirstPoint subscribers to quickly check the history and currency of a decision and includes pdf versions of the reports.