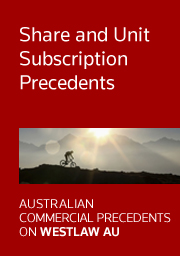 Australian Commercial Precedents: Share and Unit Subscription Precedents
Online

Date: 22/03/2013

Code: 41462100

Thomson Reuters, AUSTRALIA

Enquiry Sent

A member of our support team will be in touch with you within 1 business day.

Enquiry Form

Australian Commercial Precedents: Share and Unit Subscription Precedents
Description
Essential precedents for commercial lawyers practicing in the area of share and unit subscription law. Precedents contained include:
Subscription investment: for both shares and units for single and multiple subscribers, debt conversion and vehicle purchase;
Purchase options: both share and option agreements for subscription call option and redeemable preference share subscription agreement.
Each precedent is easy-to-use, versatile and written in plain legal language.
Each precedent comes with drafting notes and optional clauses which can be hidden in the final draft, making them easy to tailor for a specific brief.
No manual formatting is required as there is: automatic renumbering of clauses; linkable document map; automatically extracted tables of contents; and internal cross-referencing which is easily updated.