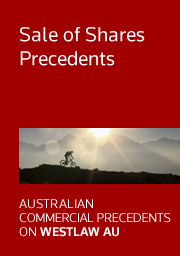 Australian Commercial Precedents: Sale of Shares Precedents
Online

Date: 01/10/2009

Code: 41167197

Lawbook Co., AUSTRALIA

Enquiry Sent

A member of our support team will be in touch with you within 1 business day.

Enquiry Form

Australian Commercial Precedents: Sale of Shares Precedents
Description
Individually available online
Australian Commercial Precedents
modules focus on key areas of commercial law, and offer precedents to help create initial drafts for simple through to highly complex transactions in a single sitting.Each module is easy-to-use, versatile and written in plain English and, with the downloadable Microsoft Word® documents, practitioners can draft client-friendly, professional agreements efficiently.This
Share Sale Precedents
module assists practitioners acting for corporations which trade in shares or are involved in business sales transactions:
Content of module:
Share Sale Agreement – Long Form
Share Sale Agreement – Short Form
The Share Sale module provides two agreement versions, catering for high level and for standard transactions. Use the longer version - covering every party combination and offering a substantial collection of optional clauses reflecting seller or buyer interest and payment options - for the sale and purchase of shares in a proprietary or unlisted public single company or group holding company. The shorter version suits a single proprietary or unlisted public company, with optional provisions reflecting seller interest or buyer interest.Optional clauses and detailed drafting notes address:
Wide range of party scenarios
Acquisition of entire shareholding or controlling shareholding
Sale shares in a single company without subsidiaries or, in parent holding company with corporate group subsidiaries
Trustee party optional provisions
Buyer and seller friendly warranties
Extensive seller liability limitation provisions
Buyer claim option, specifying a formal procedure governing claims by the buyer for seller sale warranty default or other seller default
Buyer and seller guarantees
Options for dispute resolution
Optional clauses and drafting notes provide expert guidance, stepping users through the precedent clause-by-clause, and identifying the circumstances in which each clause should be used.Each downloadable Microsoft Word® template automatically formats itself during drafting.
*
* Price is for a single annual subscription for firms or businesses with one practitioner. Practitioner is defined as employed and/or self-employed professionals within Australia including: solicitors, self-employed barristers, HR professionals and environmental specialists, corporate counsel, accountants including CPAs and CAs and registered tax agents and financial planners. For pricing for government departments and authorities and multiple users submit an enquiry online or call 1300 304 195.