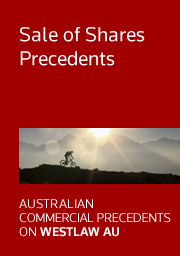 Australian Commercial Precedents: Sale of Shares Precedents
Online

Date: 01/10/2009

Code: 41167197

Lawbook Co., AUSTRALIA

Enquiry Sent

A member of our support team will be in touch with you within 1 business day.

Enquiry Form

Australian Commercial Precedents: Sale of Shares Precedents
Description
Essential precedents for commercial lawyers practicing in the area of the sale of shares. Precedents contained include:
Share sales agreement, both short and long form and document completion checklists;
Unit sales agreement short form.
Each precedent is easy-to-use, versatile and written in plain legal language and accompanied by introductory commentary.
Each precedent comes with drafting notes and optional clauses which can be hidden in the final draft, making them easy to tailor for a specific brief.
No manual formatting is required as there is: automatic renumbering of clauses; linkable document map; automatically extracted tables of contents; and internal cross-referencing which is easily updated.