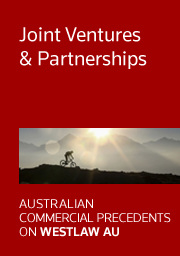 Australian Commercial Precedents: Joint Ventures & Partnerships
Online

Date: 21/09/2012

Code: 30159737

Thomson Reuters, AUSTRALIA

Enquiry Sent

A member of our support team will be in touch with you within 1 business day.

Enquiry Form

Australian Commercial Precedents: Joint Ventures & Partnerships
Description
Essential precedents for commercial lawyers practicing in the area of joint ventures and partnerships law. The precedents cover:
corporate business collective agreements;
partnership agreements;
incorporated and unincorporated joint venture agreements;
related documents; and
Participation Sell-down and Development Agreements.
Each precedent is easy-to-use, versatile and written in plain legal language.
Each precedent comes with drafting notes and optional clauses which can be hidden in the final draft, making them easy to tailor for a specific brief.