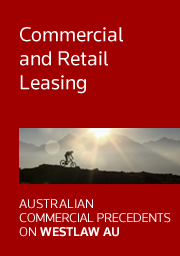 Australian Commercial Precedents: Commercial and Retail Leasing
Online

Date: 30/05/2014

Code: 41532969

Thomson Reuters, AUSTRALIA

Enquiry Sent

A member of our support team will be in touch with you within 1 business day.

Enquiry Form

Australian Commercial Precedents: Commercial and Retail Leasing
Description
Essential precedents for commercial leasing lawyer, counsel or in-house lawyer dealing with:
commercial leasing – this precedent is adaptable for all State jurisdictions; and
specific State retail leasing precedents accounting for individual State differences.
Authors are expert commercial leasing practitioners from Stockland: Stephen Pallavicini (Senior Legal Counsel) and Marie Boustani (National Leasing Legal Officer).
Each precedent is easy-to-use, versatile and written in plain legal language.
Each precedent comes with drafting notes and optional clauses which can be hidden in the final draft, making them easy to tailor for a specific brief.