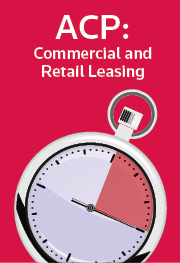 Australian Commercial Precedents: 14 Pack
Online

Date: 30/07/2013

Code: 41535401

Thomson Reuters, AUSTRALIA

Enquiry Sent

A member of our support team will be in touch with you within 1 business day.

Enquiry Form

Australian Commercial Precedents: 14 Pack
Description
Save when you purchase all available ACP modules as a pack!
Australian Commercial Precedents are now available for subscription both as individual modules and as a single ACP: Australian Commercial Precedents Pack.
ACP precedents have been authored by specialists in their respective fields, reflecting a standard of content and drafting normally reserved for larger law firms. Each module is easy-to-use, versatile and written in plain English. Precedents are supplemented with drafting tools such as drafting notes, optional clauses, checklists and commentary.