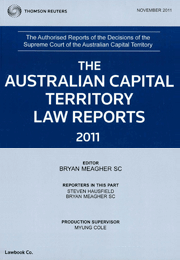 Australian Capital Territory Law Reports Online
Online

Date: 25/06/2008

Code: 41167373

Lawbook Co., AUSTRALIA

Enquiry Sent

A member of our support team will be in touch with you within 1 business day.

Enquiry Form

Australian Capital Territory Law Reports Online
Description
The only authorised law reports of the Australian Capital Territory

The Australian Capital Territory Law Reports include decisions of the ACT Court of Appeal and of Judges and Masters in the ACT Supreme Court. Carefully selected judgments are accompanied by catchwords and authored headnotes that summarise the decision.

With an ever-increasing volume of judgments being handed down, these reports enable practitioners and researchers to know which decisions are important and to quickly understand the relevance of decisions.

* Price is for a single annual subscription for firms or businesses with one practitioner. Practitioner is defined as employed and/or self-employed professionals within Australia including: solicitors, self-employed barristers, HR professionals and environmental specialists, corporate counsel, accountants including CPAs and CAs and registered tax agents and financial planners. For pricing for government departments and authorities and multiple users
submit an enquiry online
or call 1300 304 195.