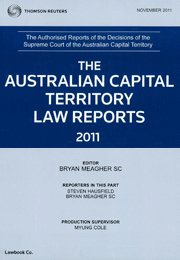 Australian Capital Territory Law Reports Bound Volumes Only
Report Series

Date: 18/09/2012

Code: 30126875

Lawbook Co., AUSTRALIA

Enquiry Sent

A member of our support team will be in touch with you within 1 business day.

Enquiry Form

Australian Capital Territory Law Reports Bound Volumes Only
Description
The only authorised law reports of the Australian Capital Territory

The Australian Capital Territory Law Reports include decisions of the ACT Court of Appeal and of Judges and Masters in the ACT Supreme Court. Carefully selected judgments are accompanied by catchwords and authored headnotes that summarise the decision.

With an ever-increasing volume of judgments being handed down, these reports enable practitioners and researchers to know which decisions are important and to quickly understand the relevance of decisions.

*
Price is for an annual subscription and includes all Bound Volumes and Consolidated Indexes issued during this period. Does not include loose Parts or Backset. The Backset is available separately at an additional price. Subscriptions are also available on a charge per volume basis – please contact Thomson Reuters for further details.