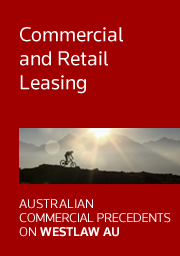 Australian Australian Commercial Precedents: Commercial and Retail Leasing
Online

Date: 30/05/2014

Code: 41532969

Thomson Reuters, AUSTRALIA

Enquiry Sent

A member of our support team will be in touch with you within 1 business day.

Enquiry Form

Australian Australian Commercial Precedents: Commercial and Retail Leasing
Description
Overview
Authored by well-established leasing experts property lawyers Stephen Pallavicini and Marie Boustani, the commercial and retail leasing precedents are adaptable for all state jurisdictions in Australia.
State specific precedents ensure key differences and similarities in commercial and retail leasing legislation between all states are accounted for.
The precedents include expert drafting notes and optional clauses to allow the user to tailor the document for a variety of scenarios, from standard through to high-end transactions.
The precedent documents includes an option to hide notes and or remove all notes from the document before printing, internal cross-referencing, and automatic renumbering ensuring ease of tailoring.
Features
· Retail leasing precedents adaptable to NSW, Vic, WA, SA, NT, TAS and ACT jurisdictions.
· Commercial leasing precedent adaptable for all states jurisdictions.
· Expert drafting notes and optional clauses to guide the user.
· Easy to template precedent documents allowing ease of tailoring.
Authors
Marie Boustani is the National Leasing Legal Officer – Commercial Property, Stockland, having responsibility for national retail leasing, development leasing and leasing policies in Stockland's property portfolio. Marie together with Stephen Pallavicini are regular contributors to the Australian Property Law Bulletin on leasing and property law matters.
Stephen Pallavicini is Senior Legal Counsel – Commercial Property, Stockland, having responsibility for Stockland's commercial property portfolio throughout Australia. Stephen is an accredited property specialist. His work includes acquisitions, disposals, developments and leasing. He has been a member of the New South Wales Law Society's Property Law Committee since 2006, the New South Wales Property Council OSR Committee since 2007. He has co-authored articles on property law with Marie Boustani and as a sole author.
*
Pricing Explanation
Price is for a single annual subscription for firms or businesses with one practitioner. Practitioner is defined as employed and/or self-employed professionals within Australia including: solicitors, self-employed barristers, HR professionals and environmental specialists, corporate counsel, accountants including CPAs and CAs and registered tax agents and financial planners. For pricing for government departments and authorities and multiple users submit an enquiry online or call 1300 304 195.