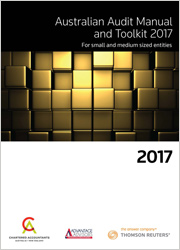 Australian Audit Manual & Toolkit for SMEs 2017 (book with CD)
Book

Date: 17/03/2017

Code: 9780864699107

Thomson Reuters, AUSTRALIA

Australian Audit Manual & Toolkit for SMEs 2017 (book with CD)
Description
Now in its seventh edition, the Australian Audit Manual and Toolkit 2017 is designed to help practitioners charged with the task of auditing small to medium sized entities.
Produced in conjunction with Chartered Accountants Australia and New Zealand and accounting firm Advantage Advisors, the Manual provides up-to-date guidance on Australian Auditing Standard requirements to help ensure consistent application of the standards in achieving high-quality, cost-effective audits.
The Manual will assist practitioners to address key audit quality issues appropriately in their engagements, including applying standards relating to professional scepticism, documentation and auditing estimates.
Detailed and well structured, the Manual provides practical case studies in applying auditing standards.
Also included is an extensive Toolkit, which contains commonly used templates, forms, checklists and sample letter templates.
New for 2017:
Changes resulting from the enhanced auditor reporting requirements set out in ASA 700 Forming an Opinion and Reporting on a Financial Report;
An overview of the requirements of ASA 701 Communicating Key Audit Matters in the Independent Auditor's Report; and
A new worksheet for documenting key audit matters (KAM).
Book format includes Toolkit CD.
Members of the Chartered Accountants Australia and New Zealand are entitled to a discount on this publication. If the discount has not been applied, please refer to the Institute's website to access the promotional code.
Features
Toolkit contains over 140 audit forms, checklists and programs
Summary document in the toolkit so that you can locate forms and templates easily
Separate excel file for each series of forms to minimise the number of files used in an audit