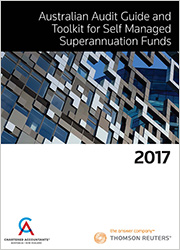 Australian Audit Guide & Toolkit for SMSFs 2017 - book (with cd)
Book

Forthcoming Release, 03/10/2017

Code: 9780864699039

Thomson Reuters, AUSTRALIA

Australian Audit Guide & Toolkit for SMSFs 2017 - book (with cd)
Description
Available - October 2017. Click here for the 2016 edition.
The Australian Audit Guide and Toolkit for Self Managed Superannuation Funds 2017 is an invaluable, practical hands-on tool for auditors of SMSFs.
Authored by Shirley Schaefer, an expert in the superannuation and audit industries, in conjunction with Chartered Accountants Australia and New Zealand, this publication provides practitioners with up-to-date tools and assistance in dealing with the demands of this challenging area of practice.
This Guide will enable practitioners to keep abreast of the changes and deliver high-quality audits while mitigating any risk of non-compliance. It has been structured to provide practical examples and extensive guidance on, and demonstrations of, real-life circumstances.
Part A (Core concepts) provides an overview of the entire audit process and a discussion of the key audit concepts
Part B (Practical guidance) focuses on how to apply the concepts outlined in Part A, including application to a practical case study
The case study material covers the complex issues, including limited recourse borrowing arrangements, collectables & personal use assets and non-concessional contributions
The Guide also includes a handy Toolkit, in CD format, containing relevant forms and checklists that will assist practitioners in conducting SMSF audits.
Members of the Chartered Accountants Australia and New Zealand are entitled to a discount on this publication. If the discount has not been applied, please refer to the Chartered Accountants
website
to access the promotional code.
Table of Contents
Part A: Core concepts
1. Ethics, ASAs and quality control
2. The risk-based audit – overview
3. Internal control – purpose and components
4. Financial report assertions
5. Materiality and audit risk
6. Risk assessment procedures
7. Responding to assessed risks
8. Further audit procedures
9. Accounting estimates
10. Related parties
11. Subsequent events
12. Going concern
13. Summary of other ASA requirements
14. Compliance considerations
15. Audit documentation
16. Forming an opinion
Part B: Practical guidance
17. How to use Part B
18. Introduction to the case study
19. Risk assessment – overview
20. Engagement acceptance and continuance
21. Overall audit strategy
22. Determining and using materiality
23. Inherent risks – identification
24. Inherent risks – assessment
25. Significant risks
26. Compliance risks
27. Understanding internal control
28. Evaluating internal control
29. Communicating deficiencies in internal control
30. Concluding the risk assessment phase
31. Risk response – overview
32. The responsive audit plan
33. Determining the extent of testing
34. Documenting work performed
35. Written representations
36. Application of other ASAs to the case study
37. Compliance with superannuation legislation
38. Reporting – overview
39. Evaluating audit evidence
40. Communicating with the trustees
41. Modifications to the auditor's report
42. Emphasis of Matter and Other Matter paragraphs
43. Comparative information
44. Communications with the regulator
* Pre-order: This item will be available on: 03 Oct 2017