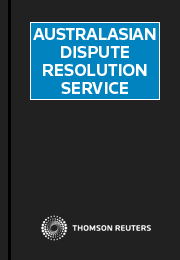 Australasian Dispute Resolution Online
Online

Date: 20/03/2013

Code: 41477221

Lawbook Co., AUSTRALIA

Enquiry Sent

A member of our support team will be in touch with you within 1 business day.

Enquiry Form

Australasian Dispute Resolution Online
Description
Thomson Reuters is pleased to announce the online release of its popular looseleaf service Australasian Dispute Resolution from 20 March 2013. Edited by Professor Tania Sourdin (Professor of Law and Dispute Resolution, Monash University) Australasian Dispute Resolution provides practical instruction on various ADR techniques used in Australia and New Zealand.
The online release will include all of the features that have made Australasian Dispute Resolution so widely used, including detailed commentary, extracts of key Australian ADR legislation and reference tables summarising ADR provisions for New Zealand, precedents, supplementary material and specific instruction on a wide spectrum of disputes. The service's availability on Westlaw AU provides online users with access to superior search options, easy navigation and fast results.
*
Price is for a single annual subscription for firms or businesses with one practitioner. Practitioner is defined as employed and/or self-employed professionals within Australia including: solicitors, self-employed barristers, HR professionals and environmental specialists, corporate counsel, accountants including CPAs and CAs and registered tax agents and financial planners. For pricing for government departments and authorities and multiple users submit an enquiry online or call 1300 304 195.