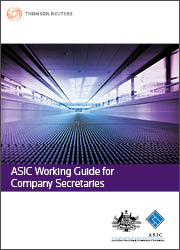 ASIC Working Guide for Company Secretaries: Paper
Looseleaf

Date: 01/01/2013

Code: 30120345

Thomson Reuters with ASIC, AUSTRALIA

Enquiry Sent

A member of our support team will be in touch with you within 1 business day.

Enquiry Form

ASIC Working Guide for Company Secretaries: Paper
Description
Consolidated regulatory guidance specifically for company secretaries, direct from the Australian Securities and Investments Commission.
Written, authorised and endorsed by ASIC and delivered by Thomson Reuters, ASIC's official publisher, ASIC Working Guide for Company Secretaries provides detailed assistance on key obligations including accounting standards, administrative hearings, disclosure of directors' interests, dealing with takeovers, secretarial compliance, procedural matters, running meetings, record-keeping, lodging documents, continuous disclosure and financial reporting.
Save on research time: choose online delivery with links that click through to legislation and case law, plus advanced ASIC Materials search functions.
The online version features twelve updates per year. The print and CD versions feature approximately three updates per year.
Features
Includes practical guidance on day-to-day company secretarial administrative functions.
Assists you in maintaining best practice standards in your corporate governance responsibilities, thus protecting your company's reputation.
Organised and structured clearly and concisely to provide you with the answers you need as quickly as possible.
Keeps you informed of developments and changes to ASIC requirements giving you a clearer understanding of your professional obligations.
Executive Summaries are released with all updates explaining the reason for the new or updated regulatory documents, giving you important background information.
All content is approved by ASIC prior to publication, putting your mind at ease.
Table of Contents
Summaries
Index
Quick Reference Guide
Information Sheets
Class Orders
Directory
Media Centre
Pro Formas
Regulatory Guides
* Subscription price includes approx 3 updates