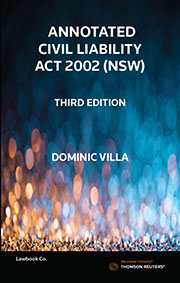 Annotated Civil Liability Act 2002 (NSW) 3e - Book & eBook
Book+eBook

Forthcoming Release, 30/11/2017

Code: 41961976

Lawbook Co., AUSTRALIA

Annotated Civil Liability Act 2002 (NSW) 3e - Book & eBook
Description
Practitioners appreciate this expert guide to the civil liability legislation so critical to litigation in NSW.
Dominic Villa charts a course through the legislation and case law to enable litigators to better deal with the wide variety of situations that arise in practice.
Since its commencement, there have been numerous amendments to the Civil Liability Act 2002 (NSW), and the common law context continues to evolve. With judicial decisions accumulating rapidly in NSW and around Australia, this work assists legal practitioners to apply the law in a potentially unlimited range of factual scenarios.
The detailed research underpinning the book assists lawyers to avoid cases that are of limited application, directing their attention to significant principles and issues in practice.
The Third Edition considers a number of High Court decisions regarding causation, limitations on the recovery of damages in Compensation to Relatives claims, damages for mental harm, and the proportionate liability provisions (and cognate provisions in Commonwealth Statutes).
It discusses NSW Court of Appeal decisions addressing parts of the Act previously the subject of conflicting first-instance decisions, and which have not been addressed by intermediate appellate Courts anywhere in Australia.
The Third Edition also considers a significant body of caselaw addressing the interaction between the Civil Liability Act 2002 (NSW) and Commonwealth statutes.
To assist litigators, comparative tables of provisions from around Australia are included to help inter-state practitioners compare their primary liability provisions with those of the NSW Act. The relevant interstate cognate provisions are also referenced at the start of each Part of the Act.
In combining expertly annotated legislation with helpful resources and references, this is an essential reference tool for lawyers.
*
eBooks and packages including an eBook may not be returned once the software key has been supplied. Your rights as a customer to access and use the ProView™ software and a ProView eBook are subject to acceptance of the ProView content licence agreement.
NB
An email with a registration key and instructions for accessing your eBook will be sent after checkout. For existing ProView users the eBook will appear in your library after checkout.

Forthcoming/pre-order eBooks will be available after the publication date.

The ProView app is not currently available on IPhone or Kindle. See the latest system requirements
Pre-order: This item will be available on: 30 Nov 2017