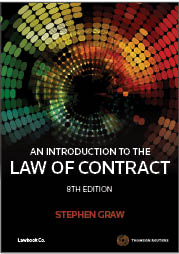 An Introduction to the Law of Contract 8th edition
Book

Date: 26/11/2014

Code: 9780455233642

Lawbook Co., AUSTRALIA

An Introduction to the Law of Contract 8th edition
Description
The eighth edition of An Introduction to the Law of Contract incorporates references to the major court decisions that have been handed down since the last edition. These include the High Court's decisions in:
Andrews v ANZ Group Ltd – and the associated decisions of the Federal Court in Paciocco v ANZ Group Ltd and the Victorian Court of Appeal in Cedar Meats (Aust) Pty Ltd v Five Star Lamb Pty Ltd (penalties);
Equuscorp Pty Ltd v Haxton (restitution and illegal contracts);
Kalkavas v Crown Melbourne Ltd (special disability);
Clark v Macourt (the timing of damages);
Electricity Generation Corp v Woodside Energy Ltd (the meaning of terms in commercial contracts); and
ALH Group Property Holdings Pty Ltd v Chief Commissioner of State Revenue of the State of New South Wales (novation)
Also discussed are a number of important State and Territory court decisions in the areas of frustration, restraint of trade, severing, penalty clauses, restitution and change of position, illegality, exemption clauses, implied terms, economic duress, undue influence, taxation and damages, injunctions, mistake, the postal rule and obligations to act in good faith.
Significant statutory changes made since the last edition considered in this edition include:
replacement of the Federal Magistrates Act 1999 (Cth) by the Federal Circuit Court of Australia Act 1999 (Cth) – converting the Federal Magistrates Court to the Federal Circuit Court of Australia;
changes to the unconscionability provisions in the Australian Consumer Law;
new Commercial Arbitration Acts in each of the jurisdictions; and
replacement of the Fair Trading Act 1999 (Vic) with the Australian Consumer Law and Fair Trading Act 2012 (Vic).
Table of Contents
An Introduction to the Australian Legal System
An Introduction to Contract
The Offer
Acceptance
Intention to be Bound
Consideration
Capacity to Contract
Privity of Contract
Contents of a Contract
Exempting, Excluding and Limiting Terms
Mistake
Misrepresentation
Duress, Undue Influence and Unconscionability
Illegal and Void Contracts
Discharging a Contract
Remedies
Contracting electronically
Resource Downloads
Instructor Supplements
Please note: these resources are ONLY for the use of lecturers who have prescribed the relevant text. Please email tlrap.academic@thomson.com to request access.