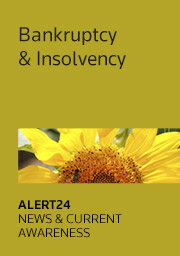 Alert24 - Bankruptcy & Insolvency
Online

Date: 26/10/2005

Code: 41167133

Lawbook Co., AUSTRALIA

Enquiry Sent

A member of our support team will be in touch with you within 1 business day.

Enquiry Form

Alert24 - Bankruptcy & Insolvency
Description
Alert24 is the current awareness tool that enables you to stay up-to-date with the latest developments in your practice area.

Each day subscribers receive an email noting the latest cases, legislative developments, legal news and policy materials.

- Filtered information is expertly selected

- Select topics to suit your changing needs when you require them

Call now 1300 304 195 to set up a FREE trial of Alert24.